TeMo SMECoach NPO was founded in 2017 after realizing the huge demand for entrepreneurial coaching and mentorship in rural villages and townships.
Tebogo and her team use past experiences and journeys through entrepreneurship to inspire youth, women and cooperatives to become successful sustainable business people.
Over 4 years, Temo Foundation has had a remarkable impact on the people and communities in which it works. Through dedication, collaboration and a commitment to creating positive change, we continue to build on our previous achievements to create a South Africa we can all be proud of.
We help people to uncover and transform the unconscious barriers they have to their own success. Over and above digital skills training we also assist entrepreneurs with communication coaching to make listening, feedback and effective delegation standard practice in their business.
Be an organisation that contributes meaningfully and significantly to the developmental needs of gender equality education, small business growth and social cohesion.
We constantly encourage our mentees to stretch beyond their comfort zones in order to achieve what they are meant to achieve.
TeMo SME Coach is a 100% women-owned nonprofit organisation with a great passion to develop rural women globally and instill the sense of pride, ownership and validation in many women who have lost hope. 
We are based in South Africa but have a regional, continental and global footprint through collaborations with our various international partners.
Our Coaching Team
TEAM & STAFF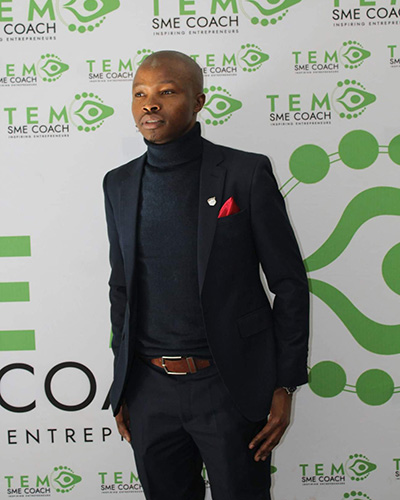 Johnny Bojang
BUSINESS COACH
Co-Director of Startup Grind Rustenburg Chapter, the largest independent Startup community.
Tebogo Mosito
FOUNDER & BUSINESS COACH
A professional, inspirational speaker, she motivates, mentors and encourages rural women and youth to start their own businesses.
Jeffrey Mabuza
DIGITAL SKILLS FACILITATOR & COACH
A systemic business consultant, trainer and coach in the field of strategy and organisational digital marketing.
What we stand for as small business coaching NPO
VISION & MISSION STATEMENTS
OUR VISION
To be an influential agent of social and economic change.
OUR MISSION
Is to plant the seed for socio-economic and sustainable development.
Mentorship and Coaching of startup entrepreneurs
Gender Equality-Generation-TekaTekano Roundtable events
Gender Based Violence Awareness Programs
Entrepreneurship Masterclasses
Online digital skills training
Youth & Women Capacity Building Workshops
Skills development for people living with disabilities
Business Linkages and networking
TEMO Foundation NPC is a registered NPO 240-383 PBO 930068321
By supporting the Foundation, you may qualify for a Section 18A Tax Exemption Certificate and also earn higher B-BBEE points in the five pillars of the Codes of Good Practice.
We are committed to fostering the development of an inclusive, empowered society with the support of our partner entities. You may support us by donating to our programmes or collaborating with us.
To find out more, contact the TEMO Foundation at:
Call: 074 8397060 or info@temofoundation.org